Essays

Mirror, Mirror

Essay written for the catalogue of the Ashford Gallery posthumous exhibition of "A Selection of Works from his Studio" by John Kelly RHA, January 2009.

When someone is in hospital and possibly dying, it is hard to know what present to bring. You can't give Lucozade to a diabetic, or books to someone whose eyesight is failing. Instead, I'd bring John bits and pieces of food and the hospital meals would end up on the windowsill of the Mater to feed the gigantic seagulls.

So it was a real treat to have a specific request – drawing materials and a mirror for self-portraits. I think it gave us all a boost to think of John drawing again. Paper was easy to find, and I hunted down some nice 5B and 6B pencils, well trained by years of getting pencils for him as Christmas presents.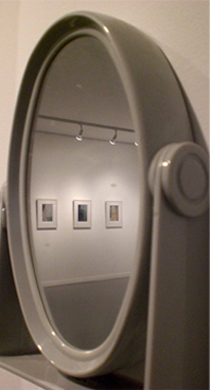 Buying the mirror was a bit trickier – it needed to be freestanding, as it would have to sit on the hospital bed-tray with nothing to prop it up. I searched around all the department stores, but any mirrors I could find were too big, too fancy, too heavy. I finally found what I was looking for in the Pound Shop: lightweight, plastic, none too pretty, but it did the job.
John drew those last self-portraits in December 2003. For the first five drawings, he cleared everything from the bed-tray to make room for the mirror. For the sixth, he looked at the wilting rose that our friend Darina had brought him some weeks before, and decided to leave it in front of the mirror, as neither he nor the rose had much time left.
As it turned out, he defied the doctors' predictions and lasted much longer than the rose, though not long enough.
Lara Kelly, January 2009